What are the indications for a colonoscopy?
Change of bowel habits, blood in your stool, abdominal pain, weight loss, anemia, constipation, diarrhea, family history of colon cancer, personal history of colon polyps, personal history of breast cancer, inflammatory bowel disease, and other symptoms that may be related to gastrointestinal disturbances.
What are the indications for an upper endoscopy or EGD, (esophagogastroduodenoscopy)?
Anemia, abdominal pain, bloating, belching, loss of appetite, weight loss, heartburn, acid reflux, difficult or painful swallowing, nausea, vomiting, and other symptoms that may be related to gastrointestinal disturbances.
How do I schedule to have an endoscopy exam?
Please call our office to discuss your needs. Our trained office staff will visit with you on the telephone and assist you in arranging an appointment with the doctor in the office or directly for a procedure. We will need to ask a few questions so that we can arrange for the appropriate evaluation. You may also submit your request using this website and we will contact you at your convenience in order to help answer your questions and to arrange an evaluation.
What do I need to prepare for an office visit or an endoscopy exam?
Office Visit: Please complete the new patient packet, your ID and insurance card, and a list of your current medications and allergies.
Endoscopic Exam: Your procedure will be scheduled at an endoscopy facility and not at our office. Prior to your appointment you will be instructed on how to prepare for the exam by one of the office staff. Please bring your ID and insurance cards and a list of your current medications and allergies. You must arrange to have someone drive you home after your procedure. We cannot let you drive or take a cab or bus home if you have been medicated during the exam.
What if I cannot keep the bowel prep down?
Stop drinking the prep and try again at a slower pace in about 15-30 minutes. Cool down the prep in the refrigerator or in an ice bath before drinking it. If you are still unable to complete the prep, call in the office and facility to reschedule.
How do I know when my bowel prep is complete?
The stool output should look similar to the liquids that you are drinking, clear, without any particles.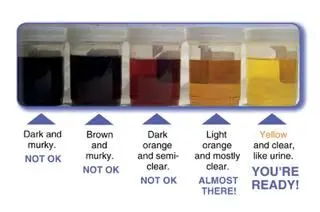 How long does the procedure take, and how long will I be in your facility?
An endoscopy takes between 15 and 45 minutes, depending on what is found, (i.e., multiple polyps, that can be removed during the exam). You will be asked to arrive at the endoscopy center 45 minutes prior to your exam time in order to sign a consent form and post-procedure instructions. A nurse will go over your medical history and place a small intravenous catheter in your vein in order for the physician to administer sedative medication that will make you sleepy during the procedure. You will be monitored in the recovery area for at least 30 minutes after the procedure. Total time in our facility for an endoscopy exam is usually 2 to 2.5 hours.
Will I be asleep for the procedure?
Intravenous medications are given to make the exam comfortable. Some patients who receive this medication may fall asleep shortly after receiving it, but these procedures generally do not require general anesthesia. Most people say that the preparation is worse than the procedure. You may request no medication for the exam, however, you may experience some discomfort or cramping due to air being put into your stomach or intestine.
How will I feel after the procedure?
You may feel back to normal, euphoric, or very sleepy. Most patients report that they go home and take a nap and resume regular activities the next day.
Your physician will write his/her findings and instructions on the post-procedure instruction sheet, and a nurse will go over all the findings and instructions with you. Your physician will either request a follow-up appointment, write you a note, or call you with the results of the exam.